Travel and Lodging
ACCOMMODATIONS:
Information Coming Soon
VENUE:
National Institute of Standards and Technology (NIST)
Headquarters
100 Bureau Drive
Gaithersburg, MD 20899
Getting to NIST Gaithersburg – for driving directions and public transportation information click here
AREA INFORMATION FOR GAITHERSBURG MD & WASHINGTON DC: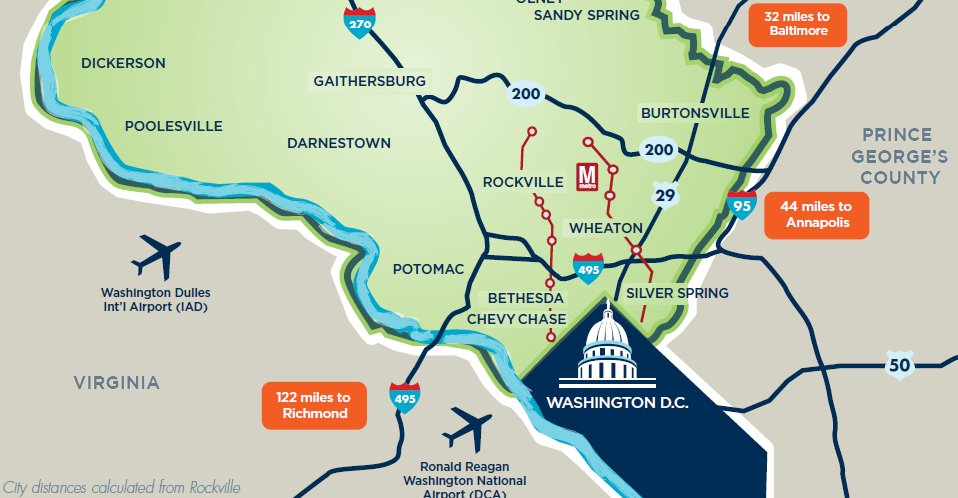 Gaithersburg MD:
https://visitmontgomery.com/gaithersburg/

When staying in Montgomery County, you can enjoy everything the area has to offer while still being a short metro ride away from the nation's capital. Take a walk along the national mall and enjoy the iconic monuments and memorials, including the Lincoln Memorial, Washington Monument, and the World War II Memorial. History lovers will be in heaven touring the Smithsonian museums, and you can even stop by the visitor's centers of the U.S. Capitol and White House. The best part is, almost everything is completely free!

After a day full of fun and history in DC, just hop back on the metro and grab dinner or enjoy a concert in the always entertaining Montgomery County. No matter what you're looking for, you'll find it among the many venues, restaurants, museums, shops, and much more in the Montgomery County cities of Rockville, Silver Spring, Gaithersburg, and Germantown to name a few.
Washington DC Information and Tours:

Here is a list of sites that we think you might be especially interested in. Many are accessible by Metro, and there are shuttles from NIST or the Holiday Inn to Shady Grove Metro station.

If you want to explore the National Mall, you may wish to get tickets on Big Bus Washington DC. A ticket allows you to get off, visit a site, then get back on as many times as you wish.
Place
Est. Cost (if listed)
Address
Metro Accessible
Note
FAQ
Phone
Air & Space Museum
free
Independence Ave at 6th Street, SW Washington, DC 20560
Smithsonian stop; short walk – Big Bus
Guided Tours available at 10:30 am and 1:00 pm.
here
202-633-2214
National Firearms Museum
free
NRA Headquarters
11250 Waples Mill Road
Fairfax, VA 22030
No
here
703-267-1600
National Museum of Health and Medicine
free
2500 Linden Ln, Silver Spring, MD 20910
Forest Glen stop; walk
here
301-319-3300
National Zoo
free
3001 Connecticut Ave NW, Washington, DC 20008
Woodley Park – Zoo stop; short walk
parking $22
here
202-633-4888
Newseum
Adult: $22.95 + tax
555 Pennsylvania Ave., N.W., Washington, D.C., 20001
Archives/Navy Memorial stop – Big Bus
here
202-292-6100
Spy Museum
Adult: $21.95
800 F St NW, Washington, DC 20004
Gallery Place/Chinatown stop – Big Bus
here
202-393-7798
Library of Congress
free
Thomas Jefferson Building
10 First Street SE
Washington, DC 20540
Capitol South stop; short walk – Big Bus
tours begin at 10:30am
here
202-707-8000
U.S. Capitol Building
free
East Capitol Street Northeast & First St SE, Washington, DC 20004
Union Station or Capitol South stop; short walk – Big Bus
Must book tour well in advance; roughly 4-6 weeks is ideal in order to have the most selection for times.
here
202-226-8000
Udvar-Hazy Air & Space Musuem
free
14390 Air and Space Museum Parkway Chantilly, Virginia 20151
Wiehle-Reston East stop, then bus to Udvar-Hazy
here
703-572-4118
Jefferson Memorial
free
701 East Basin SW, Washington, DC 20242
Smithsonian stop; walk – Big Bus
Open 24 hours. Gift shop
Cold War Museum
The Cold War Museum
7142 Lineweaver Road
Warrenton, VA
P.O. Box 861526
Vint Hill, VA 20187
No
opens at 11am; Spy Tours via bus require minimum of 25 people
540-341-2008
Mt. Vernon
Adult: $17
3200 Mount Vernon Memorial Highway
Mount Vernon, Virginia 22121
No
here
703-780-2000
NASA (Goddard)
free
8800 Greenbelt Road
Greenbelt, MD 20771
No
here
301-286-8955
National Cryptologic Museum
free
8290 Colony Seven Rd, Annapolis Junction, MD 20701
No
must schedule guided tours in advance
301-688-5849
Potomac River Cruise
~$20, depending on cruise
205 The Strand, Alexandria, VA 22314
depends on choice of launch dock
There's many choices for a river cruise. This is the top rated one on Google. In November, anything on the river will be cold cold cold!
here
703-684-0580
In addition to sites, there are many large shopping malls in the area.
| Place | Address | Metro Accessible |
| --- | --- | --- |
| Lake Forest Mall | across the street from Holiday Inn | No |
| Westfield Montgomery Mall | 7101 Democracy Blvd, Bethesda, MD 20817 | No |
| Tysons Corner / Tysons Galleria | 1961 Chain Bridge Road, Tysons Corner, VA 22102 | Tysons Corner stop |
| Crystal City Shops | 1600 Crystal Dr, Arlington, VA 22202 | Crystal City stop |
| Arundel Mills | 7000 Arundel Mills Cir, Hanover, MD 21076 | No |
| Potomac Mills | 2700 Potomac Mills Cir, Woodbridge, VA 22192 | No |
Two other places to hang out are Georgetown in the District of Columbia (Washington), with tons of shops and fun things to do (Megan's favorite is Baked & Wired), and Alexandria, Virginia, which is hip and fun with great restaurants.