Freshwater Science
Current Issue
December 2017, Volume 36, Issue 4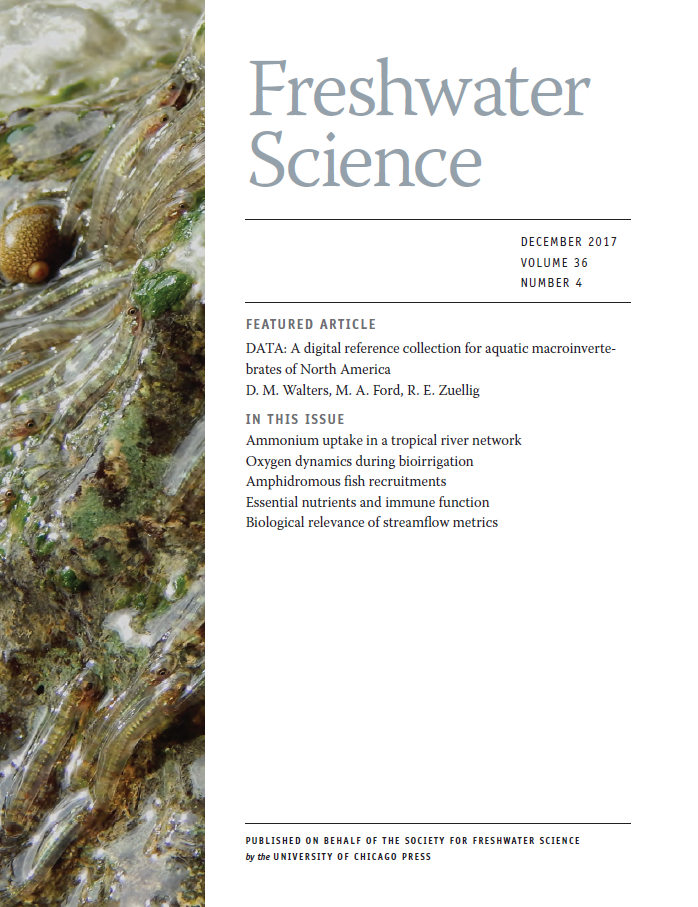 Ammonium uptake in a tropical river network
Oxygen dynamics during bioirrigation
Amphidromous fish recruitments
Essential nutrients and immune function
Biological relevance of streamflow metrics
Featured article
David M. Walters, Morgan A. Ford, Robert E. Zuellig. 2017. A digital reference collection for aquatic macroinvertebrates of North America. Freshwater Science 36(4): 693-697.
About Freshwater Science

Freshwater Science (Print ISSN 2161-9549, Online ISSN 2161-9565) is published quarterly (March, June, September, and December) by the The Society for Freshwater Science and the University of Chicago Press, Journals Division, 1427 E. 60th Street, Chicago, Illinois 60637. The Society for Freshwater Science is a not-for-profit organization founded in 1953 and incorporated in the State of Illinois in 1967.

More information about Freshwater Science can be read at The University of Chicago Press Freshwater Science portal.
SFS Member Access
Freshwater Science (FWS), is available online for all SFS members and to institutional subscribers.

Please use the link below to access the Current Issue, Ahead of Print articles, or back issues including those published as the Journal of the North American Benthological Society (J-NABS) and Freshwater Invertebrate Biology (FIB) using your SFS website login.


Access Through Your Institution
If your institution has an electronic or electronic subscription to FWS,
you can access the journal directly without logging onto the SFS site. If your institution has a Print-Only subscription or is not listed,
visit http://www.journals.uchicago.edu/LRF/FWS to recommend Freshwater Science to your librarian.

Login Information
If you have forgotten your login or password, please use the "Forgot your Login?" or "Forgot your Password?" links on the login page. Your login should be the email address that you used when renewing your membership (also the email address that you receive the SFS emails at) or your Member ID number.
If you have other issues gaining access to the Journal, please do not hesitate to contact SFS Member Services at
sfsmembership@usu.edu
.