Society Business
Freshwater Science Family Reunion
By President Emily Bernhardt
May 2017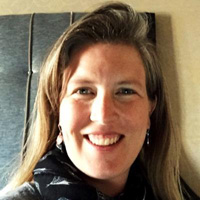 Hi SFSers.
I am so looking forward to our upcoming 'freshwater science family reunion' in Raleigh next week. As hundreds of you are finalizing your poster or talk, with the inevitable accompanying stress, it is a good time to step back and ask – why do we do this?
Our annual meeting is the benthic highlight of my year. The NABS meeting in San Marcos, TX was my very first major scientific meeting. I had just completed my first year of graduate school and it was a thrill to discover that I could polka dance (badly) with many of my 'benthic' heroes that I had previously only known from their papers. I dreamed of getting a job someday so that I could afford to buy the framed magazine photo of Pope John Paul (why, I don't know) at the NABS live auction. I also learned an incredible amount about nutrient cycling, about metabolism and about how some stoneflies communicate by abdomen drumming.

Read more...
SFS CONSTITUTION & BY-LAWS 2016
Posted 1/5/2017
The Board of Directors has approved revisions to SFS By-laws to make them align better with SFS practice. These include language establishing an SFS Fellows program, an Endowed Publication Fund and Journal Endowment Committee, and renaming the "Assistant to the President" position to the more accurate title of "Vice President." These proposed revisions were approved by the SFS Board of Directors, and were put to a vote of the membership at the upcoming annual meeting in May 2016, as per the amendment process specified in the SFS By-laws.
Read more and view the SFS Constitution and By-Laws.
SFS Election 2016
Posted 3/3/2016
The election results are in, and we are pleased to announce the new officers and board members of the Society for Freshwater Science:

• President (2017-2018): Colden Baxter, Idaho State University
• Secretary (2016-2019): Sally Entrekin, University of Central Arkansas
• Non-Academic Delegate to the Board of Directors (2016-2019): Stuart Findlay, Cary Institute of Ecosystem Studies
• Non-North American Delegate to the Board of Directors (2016-2019): Angus Webb, University of Melbourne

We thank everyone who voted (and encourage the many of you who did not vote to do so next year!), and Sue Norton, Joy Brisighella, Deb Finn, and Patina Mendez for helping with the election. Most of all, we thank all of the good people who agreed to run for these offices (Bill McDowell, Jay Jones, Gary Lester, and Mark Gessner, as well as those who were elected) and thereby devote some of their precious time, energy, and ideas to SFS. The society could not run without the good will and hard work of such people.

-David Strayer, on behalf of the Elections and Place Committee

Board of Directors
Quarterly meeting minutes of the SFS Board of Directors are available for member viewing (requires login).
Annual Committee Reports and Society Business Meeting
Annual committee reports and Society Business Meeting are available for member viewing (requires login).
Regional and International Chapters of the Society for Freshwater Science
The SFS is beginning to establish regional North American and international chapters of the society. This is a volunteer initiative to only occur in regions of North America and other parts of the World where the society can grow in membership and to also help groups of interested freshwater scientists in more regional and local pursuits of networking and focused common research/applied issues. The change in the name of our society from the North American Benthological Society to the Society for Freshwater Science was a move in the direction of establishing a more global voice in addressing issues of our water resources. Establishing chapters of the society will further enhance that global voice.
Read about the new chapters.
SFS 5-year Strategic Plan 2014
The Long-range Planning Committee, in collaboration with members of the Executive Committee, has produced the next five-year Strategic Plan for the Society. This Plan, while retaining a number of key goals and initiatives from the last plan, has new areas of emphasis which will help guide the Society over the next five years, and beyond.
We are posting the final version of the Plan on the Society's web page below for your consideration. Please review this important document since we will be asking the membership to vote to approve this plan at the Business Meeting in Portland.
SFS 5-year Strategic Plan 2009
The SFS 5-year Strategic Plan was constructed by the 2008-2009 Long-Range Planning Committee (LRPC) of the North American Benthological Society. The SFS 5-year Strategic Plan presents 4 overarching goals. The Society should: 1) better position itself so as to be viewed as a key source for science-based management decisions and to influence public policy and perceptions, 2) better interact with educators to improve aquatic science education, 3) grow and diversify, and 4) increase the number of individuals with taxonomic certification. This plan will be considered a "living document" that will be revised to address new and changing conditions.
View the full version of the NABS 5-year strategic plan 2009 (requires login).
Society Business Archive
SFS Society Business from prior years is available in the
Society Business Archive
. Society Business from 1992-2012 is archived in
The Bulletin
.